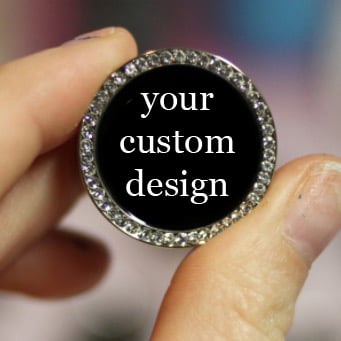 Custom Design in Gem Tunnels (sizes 0g-2")
$

35.00 -

$

85.00

From

$

35.00

$

35.00
Your custom image design, can be any image you'd like!

One pair of screw fit double flare gemmed tunnels with your choice of design! Please note in the smaller sizes (0g/00g etc) that a simpler design will be best to make sure your design comes out as clear as possible.
(Plugs can be any design of your choice, to see previous designs just check out my Instagram/Facebook)
Once you have made your purchase, contact me either here (contact link is on the right hand side of the page) or through my Facebook/E-mail to finalize your custom design.
plugsbyemma@gmail.com
http://www.facebook.com/plugsbyemma
plugsbyemma.tumblr.com
(Please keep in mind plugs these tunnels are special order so after you place your order, the tunnels are ordered in (this can take up to two weeks). Once the tunnels are in the plugs can take anywhere from 10-14 business days to be made before they are shipped out)